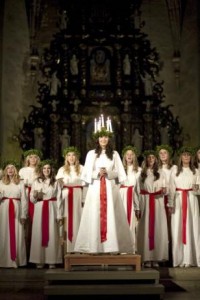 Luciadagen (St Lucia day) is the 13 of December has has a long tradition in Sweden. The traditions include crowning a young girl the 'lucia', then she wears a crown of candles and delivers songs, coffee, and saffron buns (lussekatter!) to the family.  She also has an entourage called the luciataget (lucia train), including some girls in white dresses and boys in white robes and pointy white hats and torches to light the way.  I think they look like dunce caps.  Usually Lucia delivers to the family, but every town and school and region etc has a Lucia, so there can be a concert/ceremony of the crowning of the Lucia.  In some towns the Lucia taget runs around knocking on doors and singing, maybe for treats kind of like Christmas carollers would.   A Canadian friend who has spent time in Sweden told me a funny/tragic story of Luciataget misunderstandings.   Nobeldagen (the day they give out the Nobel prizes) is December 10.  There was one Nobel Laureate (probably from the States?) who had received his award and was staying a few extra days to check out Sweden.   This particular guy was black, so when he saw groups of people knocking on doors while dressed in white with pointy hats and white robes carrying torches, he was understandably disquieted.  I don't think it has occurred to any Swedes that Luciataget is reminiscent of the KKK.  I'm not sure how the story ends, but I'd like to think there was a sensitive explanation by a sensitive Swede, and then everyone had coffee and lussekatter and listened to julsongs.
Lucia started for us Friday morning at the University.  We went with our  buddy Tim who is visiting CBF for a few weeks.  He is from The Nederlands, so Lucia is new to him too.  We had some local Gevalia coffee, lussekattar and pepparkakor then got some good front row seats to see the Luciatåget .  I had the idea that they picked the Lucia girls the week before, but these girls had obviously practiced a lot and sang in 3-part harmony.
While in Stockholm we went back to Skansen, the outdoor 'old Sweden' park.  There was a great jul market and several Lucia events.  I think they conscript local school kids to be in the luciatÃ¥get, and they had at least two trains doing several concerts per day.  Happily, the kids also got some time off to go to the zoo and julmarknad.
Overall Lucia seems like a fun extension of the Christmas season, and we are happy we got to enjoy it.  Although officially a 'saints day', any holiday that comes with fire and food and young  women leaders smacks of a history older than Christianity, so it is neat to think about how this tradition has evolved over time.  Next up: Lucia texts (Which I actually saw advertised on Swedish MTV!)