Over the last few weeks we have been keeping a secret. Our friends Hasse and Elja, who will be getting married in Hamburg in July, were in for a surprise bachelor(ette) party! It was beautifully orchestrated by Helena and Mikael, who organized a great day (and night) full of events. It started with a surprise breakfast party, where 20-ish guests descended on Hasse and Elja's place while they were still sleeping. Champagne breakfast set the tone for the day…
Hasse and Elja got some great outfits to wear, then went separate ways with the guys or the girls for fun day time activities. Without divulging too many details, it was a super-fun day for everyone, and both Hasse and Elja were great sports.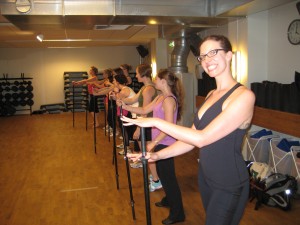 We finished up by all meeting up together at a local club for a dance-a-thon. We shut that place down, then left for an "after party" at Hasse and Elja's. Everyone was sleepy but content with the day. We walked home and the sun was coming up and the birds were singing… although this is not a sign of extreme party animal activity since the sun rises VERY EARLY here in the sumer.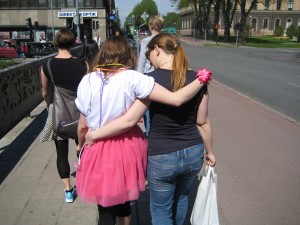 The party happened while Elizabeth was here, but she was also invited along by Helena (the more the merrier!) and fully embraced by the group. Elizabeth is pretty charming and fun-loving, but what a great group of people to be so welcoming and friendly with a newcomer. Hasse and Elja are really blessed… and we feel pretty fortunate to have such great friends here in Sweden!