My last weekend in Gävle was Ã…-Draget or 'river party' the annual welcome-to-Fall festival in town, with 5000 candles along the river and lots of free events. We started out with a walk along the river as city volunteers lit all the candles, then saw several musical acts.
We visited a rockabilly band at the Brygga riverfront restaurant and a hip hop band at musikhuset, an old church. I like hip hop, but I think these young guys need a little more time to find their 'authentic voice'. 😉 We went to an outdoor stage to see Sticky Inc, a Punk Band led by one of Vilma's teachers. My favourite of the night was the last, a singer songwriter named Elin Lindfors. Â She was great, but I can't find any songs on myspace yet. Â Maybe she is too young for myspace?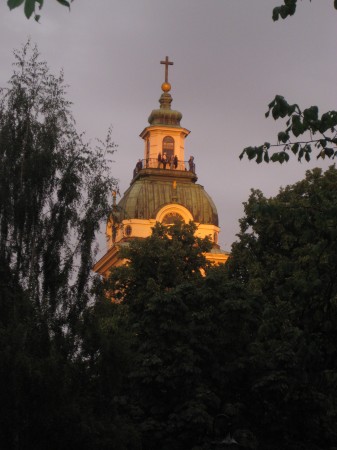 On our walk back to the car we decided to walk past my old apartment. As Camilla and I looked up at the deck, we passed tow people standing on the street, and they happened to be the ones who moved into 'our' old apartment. I met them when I showed them the apartment last year and they came a few times to take measurements and look at furniture I was selling. They were really nice and they told me about all the work they did inside… they said I would not recognize it and invited me up to see it. What a coincidence! I had to tell Hasse and Elja about it right away since they lived in that apartment before me.