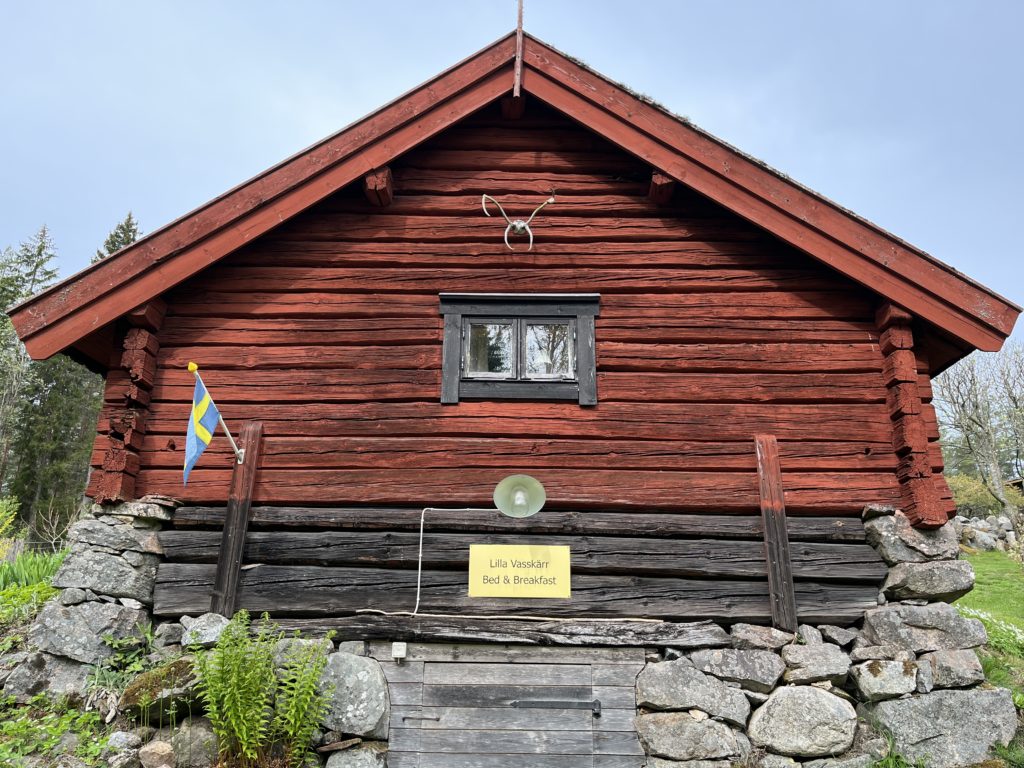 Next stop on the May bike tour: Saturday night at a cute little B&B in the forest called Lilla Vasskärr. It is a bit rustic, with cute little cabins, an outhouse and an outdoor shower (with hot water!)  It also has a lovely perennial garden with a focus on herbs and flowers. The hosts Eddie and Per-Inge retired from professional gardening and landscaping some decades ago, and now they live full time at this former 'summer house'. They showed us some photos of how the property used to be when they bought it in 1995, and the additions and renos and SUBSTANTIAL cultivation and soil augmentation in the decades since then.
The view of the main house form the driveway

Phlox and other delights

Cuteness in every view

Through the boughs…

Bulbs almost finished now

View of our cabin behind the pont

The old stone barn frame is a great heat reflector for the tomato plants

Amazing blackcurrant hedge

Veggie beds!

Soil augmentation courtesy of Marjorie the Compost Heap

The insect hotel! Mason bees live here

Our cozy cabin, looking very lived in

The 'upstairs veranda' built out of 5 standing pines that got topped

View of the old timberhouse built in 1825. You can rent this one too, sleeps 4!

The breakfast nook for rainy days

The best appointed outhouse you will ever see. Literally smelled like the Lily of the Valley bouquet in the window

Part of the morning chores is 'tending the livestock'. Eddie showed us how he empties the pump filter for the little frog pond to rescue all the salamanders in there.

Breakfast is served in the greenhouse!

It was good, and I was hungry no matter how many cakes I had the day before.

Eddie took a photo of us on our way out.
All this and indoor bike parking! I would rate this place as 10 out of 5 stars. We left with a jar of blackcurrent jam and an intention to go back. We think almost everyone we know who would come from Canada would enjoy this – let us know when you are coming and we'll book it. 🙂