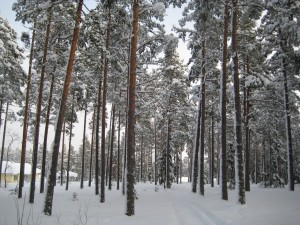 Hemlingby is our local ski slope. They one cute little hill with a ski lift (although it is not so high and it seems like folks could ski-to-sea their way up there.) There is also a huge network of trails for running and skiing. On Saturday we had a bit of a warm spell, with temperatures between 0 and -5 and bight bright sun. Graham and I often ski at Satra, which is close to us, but this time we went to Hemlingby. Though we have been there before on our bikes, we have not found a good way to latch the skis on the bikes so it was a bit of a walk. We wanted to take the 15km loop by the lake, but it was not all groomed, so we needed up on the 10km forest trail. Conditions weren't great and I have slow waxless skis, so I had an hour to think about how things are different. Here is my list of why Hemlingby is not like Cypress Mountain, for better or for worse.
1) No ski-buddy Erica at Hemlingby 🙁
2) I was allowed to ski at Hemlingby on Feb 14 🙂
3) Lots of snow at Hemlingby 🙂
4) Hemlingby is free!!!! 🙂
5) I can't drive down from Hemlingby while eating Erica's banana bread 🙁
6) Hemlingby is not groomed as often as Cypress, and some of the tracks were an icy mess. 🙁
7) Hemlingby trails have only one set of tracks, so if someone comes up behind you politeness dictates that you move over for them rather than try to race them. 🙁
8) Even though they are single-track, Hemlingby trails are one way so you don't hit anyone 🙂
9) Single track one-way means you can't out-and-back, you are committed to the whole distance. 😐
10)The Hemlingby trails are beautiful, through narrow woodland trails 🙂
11) Narrow woodland trials sometimes make hairpin downhill turns, and when the trail is narrower than your ski length this makes turning tricky for the less skilled. 😮
12) It must be a Swedish law to have vindskydds (cabin shacks with firepits and a roof) every few km. We saw families having wiener-roasting parties. I think this beats Hollyburn. 🙂
Not sure there is an overall winner here.  Hemlingby obviously wins for me right now, but I do look forward to skiing at Cypress again!