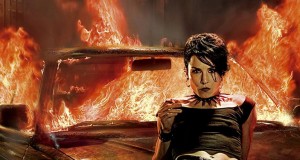 Here is a little hit of Swedish popular culture for you.  One of the world's best-selling authors (that you may have never heard of) is Steig Larsson, author of the Millennium trilogy.  In 2008 he was the second best-sellingest author in the world. Steig handed the manuscripts for three awesome crime thrillers to his publisher, and then sadly died of a heart attack before they were published, so he never got to see what a success they became  (27 million copies as of last month).  To add to the drama, his sambo (live-in but unmarried domestic partner) was undercut by his family in the proceeds from the book – a set of lawsuits that continued into this year.
I was really impressed when I read an English translation of the first book, it was the first  crime drama novel I had read that I could consider 'feminist'.  Book 1 takes a turn for the extremely dark and violent about 200 pages in, but it doesn't feel gratuitous and everyone gets their just deserts.  They made some movies out of the books, with all the eerie atmospheric brooding you could ask for from a Swedish film.  It was very authentic in its setting,  the male lead was well played and the female lead was stand-out fantastically played.  The first movie opened in the US a little while ago, and now they are talking about an American remake.   Go see the original!
I am not optimistic about the American remake.  I couldn't see who they could get to play the roles properly.  Rumour has it they are looking at Brad Pitt for the male lead (ok, fine) and Casey Mulligan for the female lead.  God bless her and everything, but I am very skeptical about that.  However, I can't think of anyone better.  It is a 'tough' role, so Angelina Jolie, Michelle Rodriguez come to mind, but they are a bit old for the role, which is just out of the teens.  Maybe Zoe Saldana could do it?
At any rate, I completely recommend the books and the Swedish movies (for a real Swedish experience, you could get some subtitled versions from Pirate Bay).