The much awaited first significant snowfall of the season has arrived.  And with a vengeance.  It started falling last night and of mid day we have at least 30cm and it continues to snow.  The forecast is for periods of snow for the next couple of days as well.  Then, unlike in Vancouver, the temperatures are going to drop (below -10) so this snow may not be gone until March!  It looks like it will be a vit jul in Gävle this year.
The work crews have been working non stop clearing the roads and pathways.  Obviously the city has seen this type of event before as they had all the equipment and logistics worked out.  We decided not to ride the bikes this morning, but more than a few people did – although many fewer than normal.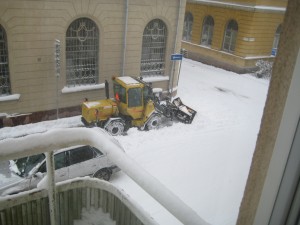 The roads were civilized from what I could see even though they were slippery – probably because people have experience with the conditions, not to mention the mandatory metal-studded tires on all the cars.  And to be fair there isn't really much traffic to speak of here anyhow.  The local newspaper's headline was: Inget trafikkaos i snön which means "No traffic chaos in the snow".  In Swedish you see lots and lots of interesting compound words like trafikkaos especially with newer terminology.  It does make learning the language a little intimidating with all sorts of big words to decipher.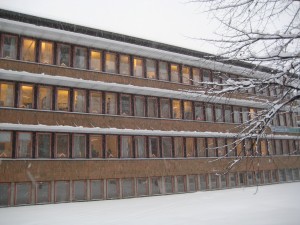 Later in the week the clouds are supposed to break so there may be a chance to take some good photos.  But the scenery definitely won't be good enough to match my favourite winter scene photo.  It's my favourite for a couple of reasons: the scenery of course but also the jealousy it induces in Nathan when he remembers that it won GlobalTV picture of the week.
The Vancouver picture also reminds us that we'll be home (or at least on the way home) in a week – exciting!